Incredible destinations in Australia that look like Europe
Dreaming of a European adventure this summer? How about exploring our backyard right here in Australia?
Are you thinking of your next travel adventure and can't wait to head off to Europe this summer? It may not be as easy as it sounds. Firstly, the fact that most European countries will be in the throes of winter with temperatures as low as -3 degrees. But what if we told you that you could have a Euro summer-style holiday right in your backyard, right here in Australia? Read on to find out some of the best Australian destinations that offer a distinctly European vibe but at a fraction of the cost. 
1. Looking to travel to Germany? Head to Hahndorf instead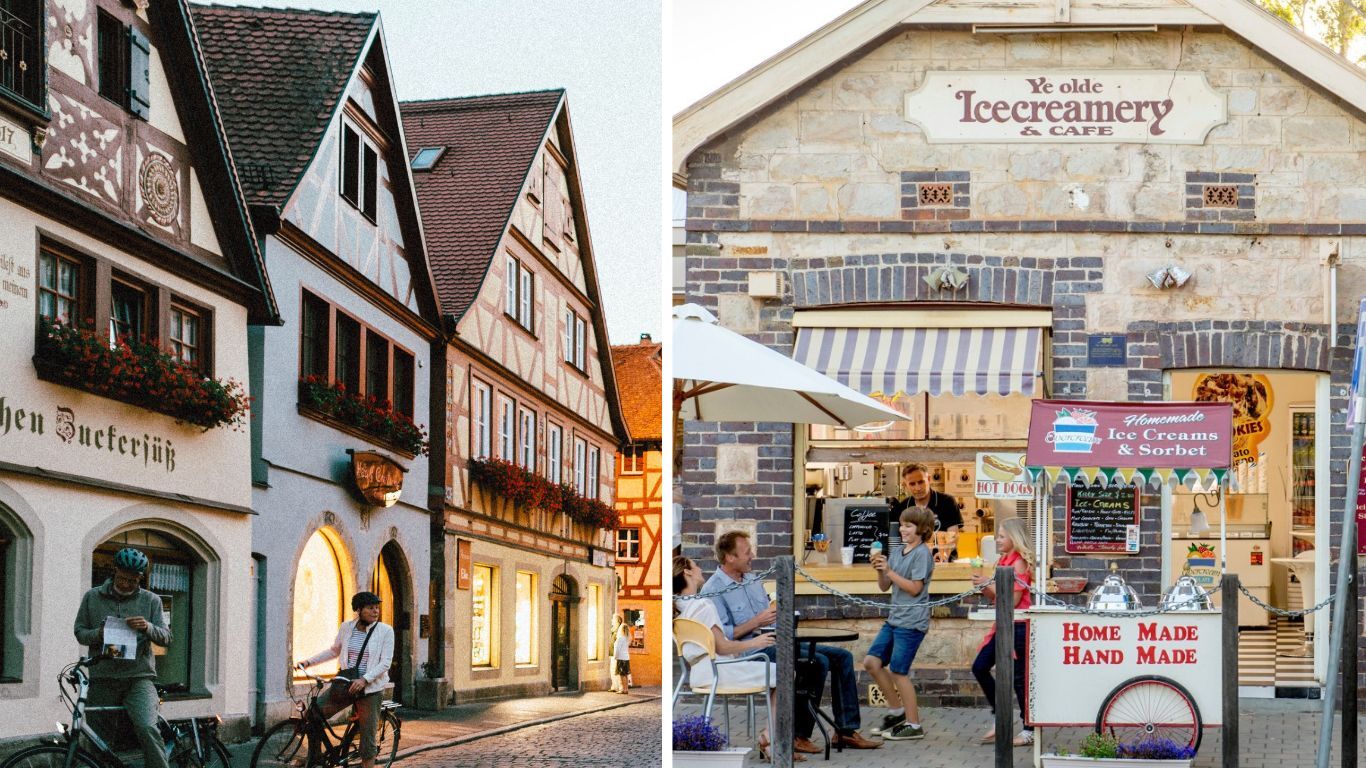 Located 30 minutes from the heart of Adelaide, Hahndorf is Australia's oldest German settlement steeped in history, and old-fashioned Bavarian charm and offers oodles of moments to make your #Eurosummer dream come true.
Hahndorf offers travellers a distinctly European experience – think indulging in bratwurst, kransky and bockwurst sausages, schnitzel, or chug steins of beer, walk around admiring window boxes with stunning floral displays and Lutheran churches. Hahndorf offers you many opportunities to experience a European vibe. If you're in town around Christmas, you can participate in Hahndorf Christkindlmarkt, an annual European-style Christmas market where you can tuck in mouth-watering grilled sausages, and hot chestnuts and take part in family-friendly activities.
Visit Hahndorf with Adelaide Sightseeing, where you can spend an afternoon at the iconic German Arms Hotel or Hahndorf Inn and dig into treats from local producers. Brilliant Benefit members can enjoy 10% off on booking the Ultimate Adelaide and Hahndorf tour.
2. Dreaming of an escape to Sardinia? Head to Vivonne Bay instead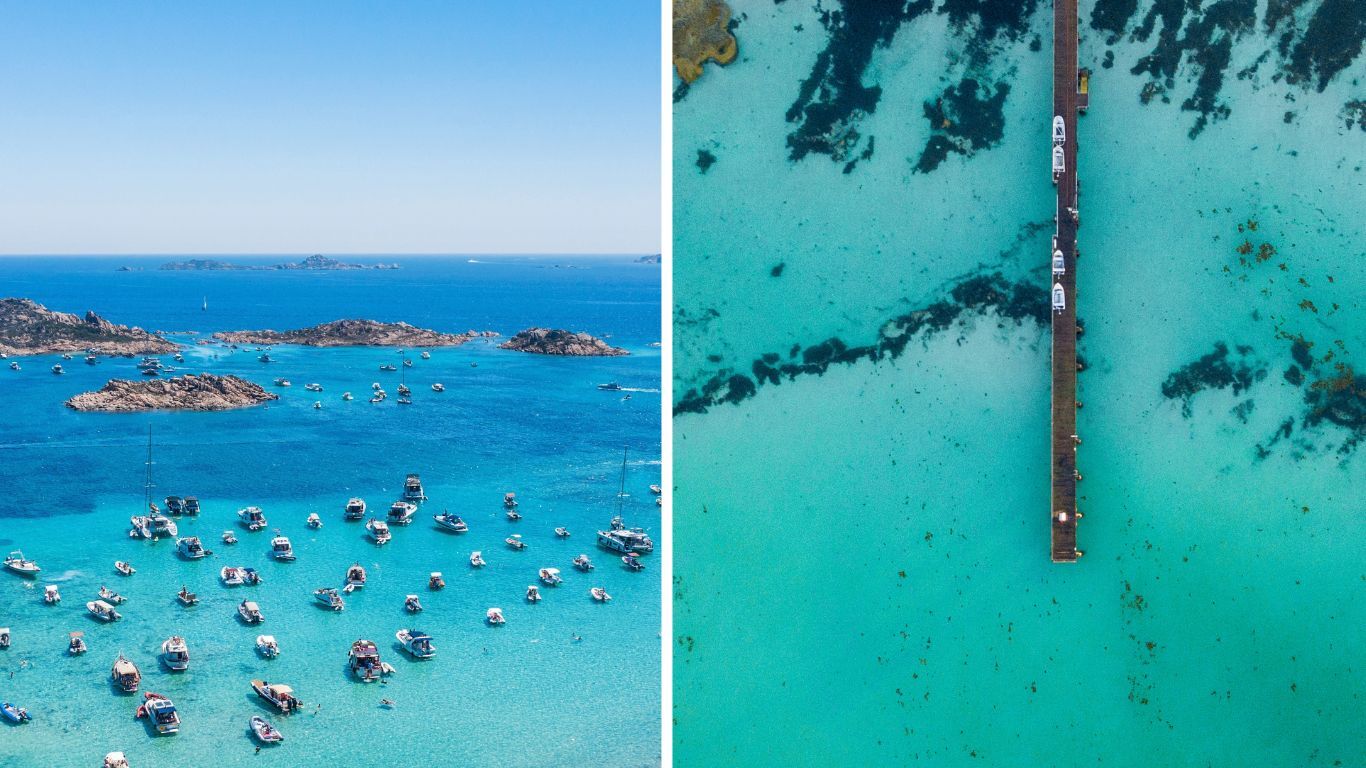 While Sardinia is a popular island holiday destination in Italy, its location twin is located right here in Australia on Kangaroo Island. Once voted Australia's best beach, Vivonne Bay is a six-kilometre-long U-shaped beach that offers a postcard-perfect spot to soak in some sun and take in the island life.
Like Sardinia, which is surrounded by crystal blue waters of the Mediterranean Sea with plenty of secluded beaches and rugged landscape, Vivonne Bay offers many Instagram-worthy spots for plenty of photo ops. Kangaroo Island is also home to other iconic landmarks such as Remarkable Rocks and Admiral's Arch in Flinders Chase National Park, not too far from Vivonne Bay.
Head to Vivonne Bay on this 3-day Kangaroo Island Hideaway self-drive package where Brilliant Benefits members can enjoy up to 15% off.
3. Looking to travel to Ibiza? Head to Fleurieu Peninsula instead

Located just 40 minutes south of Adelaide, the Fleurieu Peninsula offers the best of coastal lifestyle with its crystal-clear water that is reminiscent of Ibiza or Greece, lofty peaks, rugged coastline, and some of the finest wineries across the region in McLaren Vale. Here you can go wine tasting in 200-year-old ironstone buildings, and taste Mediterranean varieties such as Fiana and Vermentino, surrounded by cottages and flora that resembles the charming country towns of Scotland.
Explore McLaren Vale with Adelaide Sightseeing – the tour also includes The Cube Experience, where you can view a special collection of works by Spanish surrealist Salvador Dali. As a Brilliant Benefit member, you can enjoy 10% off on this unforgettable experience.
4. Thinking of a Greek adventure in Corfu? Head to Rottnest Island instead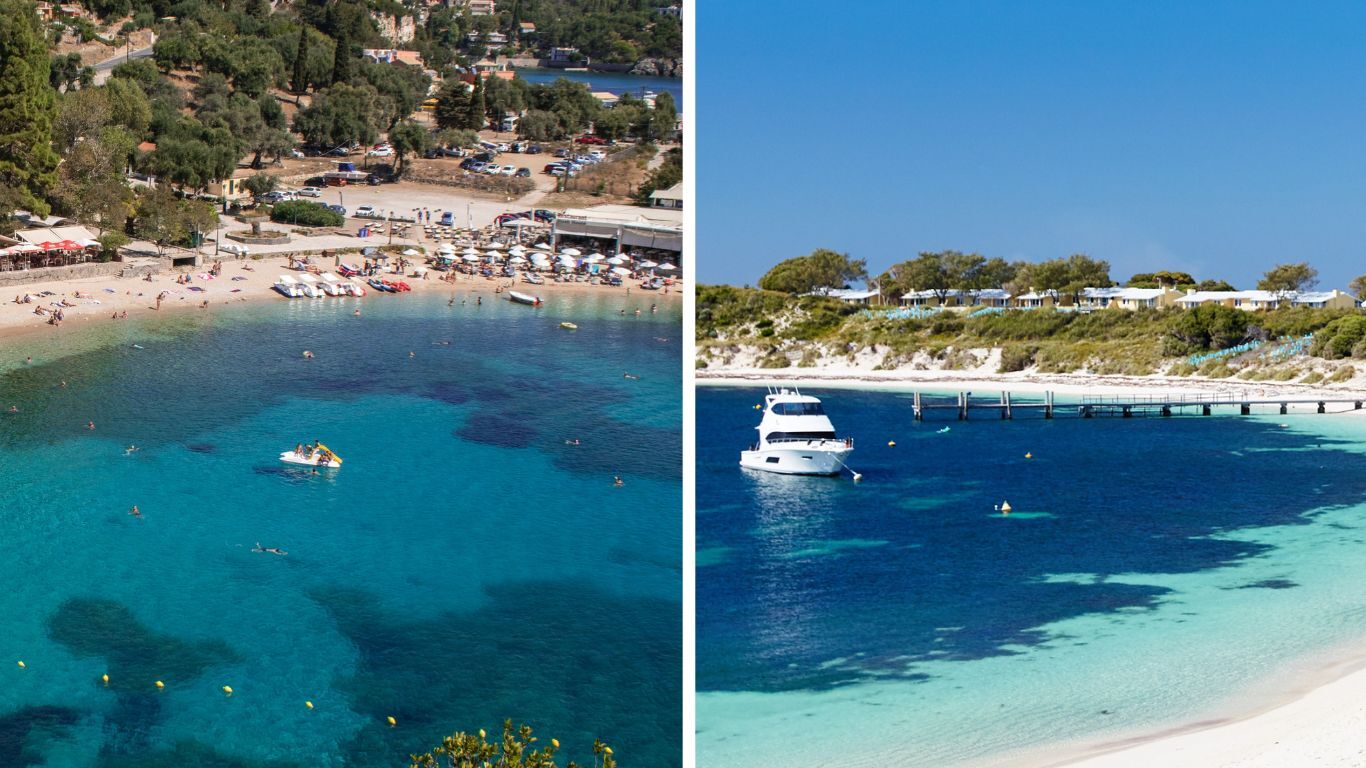 With many stunning bays, turquoise-coloured water, and a laidback vibe, Rottnest Island can very easily remind you of Greek islands, specifically Corfu, where the old-world charm and culture come together.
Situated just 19km off the coast of Western Australia, Rottnest Island or 'Rotto' as it's known by locals offers many beautiful sights – from the famous Wadjemup Lighthouse to Henrietta Rocks. Explore the island on foot or bike around to discover the many stunning landscapes. Or book a guided tour with SeaLink Rottnest Island, which includes a return ferry ticket and bus tour on the island from  $124 per person.
5. Looking to drive through the German countryside? Head to Barossa Valley instead
It's not a coincidence that the Barossa Valley has a lot of German influences. The first settlers in the region were Europeans in the mid-1800s, mainly the Germans and British who brought not just their culture but also architecture lending the town its distinct look. With its strong European heritage, distinctive church spires, wineries and cafes, there's plenty to see and do in Barossa.
Experience the best of Barossa Valley with Adelaide Sightseeing. Brilliant Benefit members can enjoy 10% off on the Barossa Food and Wine experience.
6. Want to gaze at the Northern Lights? Head to Bruny Island instead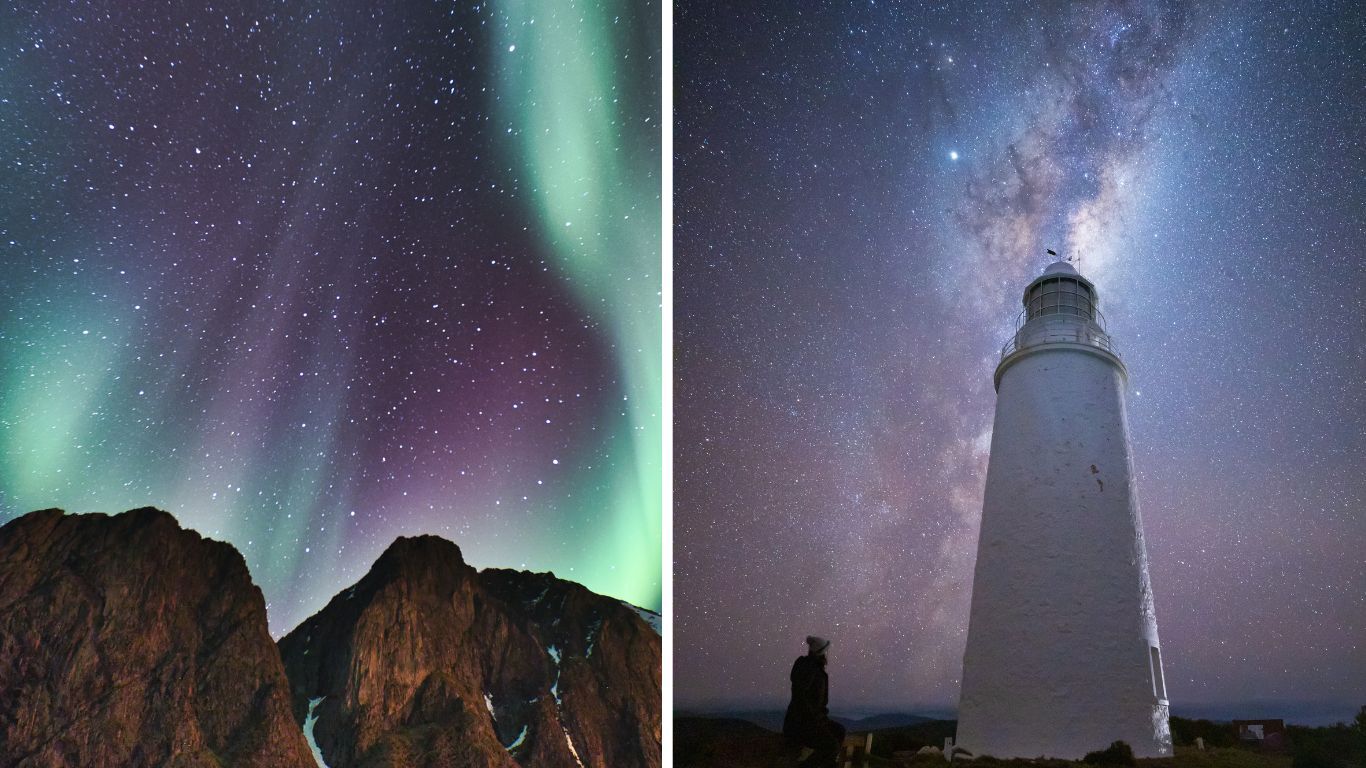 While the vivid dancing Northern Lights (Aurora Borealis) get a lot of love for their stunning display of colours, the Southern Lights (Aurora Australis) are equally enchanting. To get the best view, head to Bruny Island in Tasmania. With its relatively rural landscape, free from light and city pollution, the Southern Lights can be seen in all its glory making for a memorable journey.
Climb up the stairs at The Neck to catch the best view of the Southern Lights, against the vast ocean and a starry sky. Plan your trip to Bruny Island with SeaLink to watch the Southern Hemisphere's finest light show.
7. Want to visit vibrant Asia? Head to Darwin instead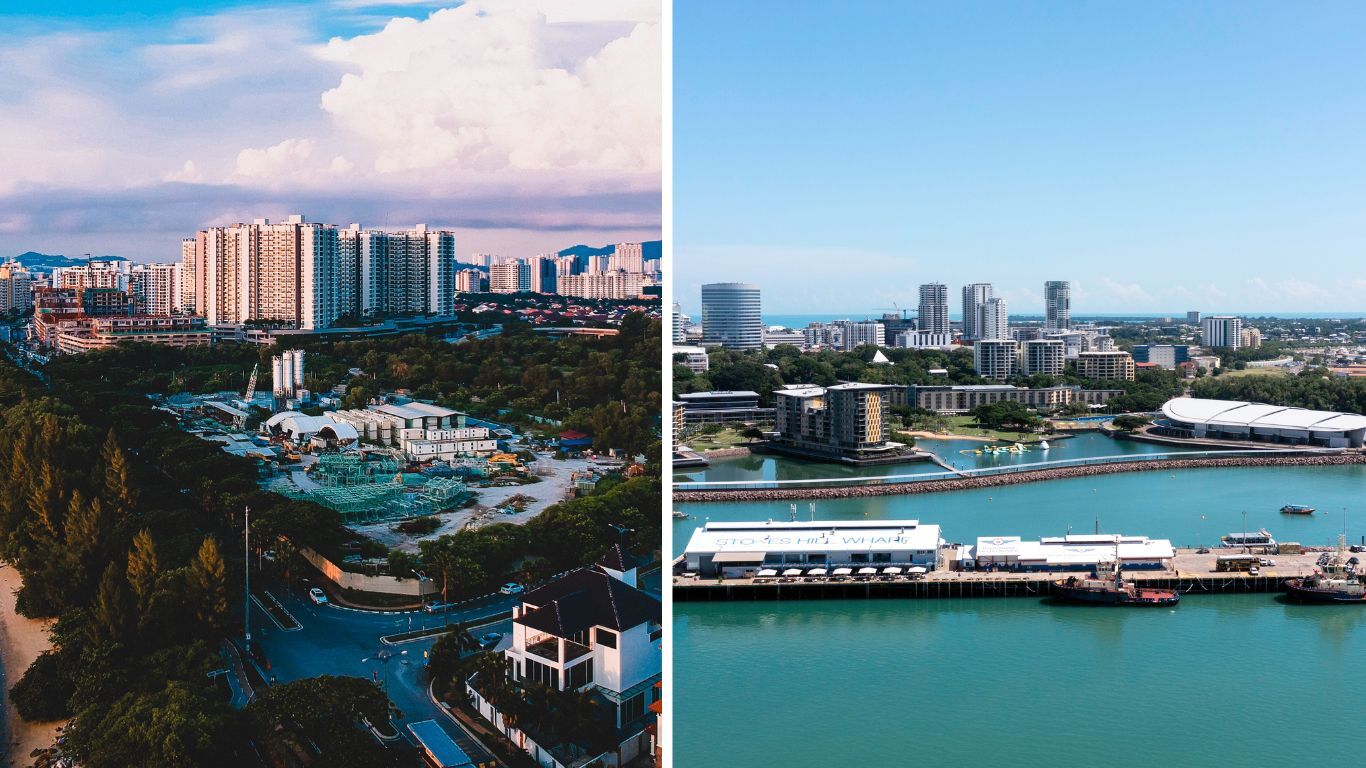 Darwin is rightly known as Asia's 'Gateway to Australia' thanks to its strategic location which has enabled the top end to have a strong Asian connection. From the best Asian cuisine to colourful markets, Darwin offers travellers a taste of Asia complete with its tropical climate and incredible sunsets. Discover Darwin with SeaLink's tours and packages.
Sign up for Brilliant Benefits
Not yet a member of our free Brilliant Benefits club? Sign up to Brilliant Benefits and enjoy great offers on your next holiday or browse through our curation of brilliant experiences all around Australia to help discover your "where to next?"
Brilliant Inspirations Travel Blogs

Join us as we take you on a trip across Australia's must-visit destinations and beyond. Want to experience unforgettable adventures, see incredible nature and wildlife, taste premium food and wine, and much more? It's time to dream big. Take a look through our blogs to find inspiration for your next epic journey.