Fraser Island
Immerse yourself in this natural wonder where spectacular beauty awaits
Fraser Island, the largest sand island on the planet, is the perfect destination if you're looking for a relaxing resort experience or alternately brilliant camping and fishing spots, 4WDing and outdoor activities. Iconic and world-heritage listed, it's the only place in the world where you can see a rainforest growing on sand.
Fraser Island - where lush rainforests kiss the ocean sand
Fraser Island is a World Heritage-listed destination known for majestic rainforest canopies, ancient sand blows, and crystal clear freshwater inland lakes. Iconic 75 Mile Beach runs the length of this stunning island - see it from above on a scenic flight for an incredible view is a must do. Better still, feel the pristine white sand squeaking between your toes as you stroll beside Lake McKenzie. Or check-in at the island day spa for some glorious pampering to melt away any stresses.

Australian Traveller magazine Top 100 - #23 Visit an Australian Idyll at Fraser Island
Brilliant Breaks on Fraser Island
Best things to see and do on Fraser Island
Stroll through the towering rainforests. Boardwalks meander beneath the canopy of palm trees and vines, through lush ferns, and over crystal clear creek waters.

Learn about the unique fauna and flora on Fraser Island on one of the ranger guided tours.

Whale watching on Fraser Island is an unmissable experience between August and late October. Witness the humpback whales as they migrate down the coast. There are many whale watching and Fraser Island tours that will bring you up close to these gentle giants.

The best way to explore Fraser Island is by 4WD, with an expert local guide as your driver. See the ancient rainforests, endless beaches and freshwater lakes, such as Lake McKenzie and Lake Boomanjin, on your Fraser Island 4WD tour.

Visit Lake McKenzie, Eli Creek, the Central Station rainforest, Maheno Wreck and 75 Mile Beach on a Kingfisher Bay Resort 'Beauty Spots' 4WD tour.

Savour authentic bush tucker at a talk-and-taste interactive session to find out how Fraser Island food and native bush produce can be used in a variety of dishes. Chefs across Australia and around the world have discovered the amazing food on Fraser Island, using it to introduce a special dimension to their signature dishes.

Grow your children's passion for the planet. Take the whole family on an interactive wildlife experience run by the Kingfisher Bay Resort Rangers to spark excitement and enthusiasm for nature conservation.

Go for a swim like no other. The Champagne Pools on Fraser Island have a unique foaming quality like a spa, with each new tide bringing more fizz.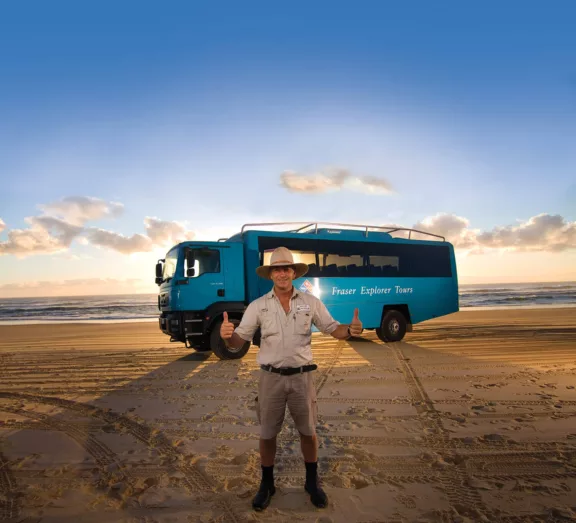 Fraser Island Tours
Fraser Explorer Tours put you at the heart of the action. An experienced tour guide will share local knowledge and secrets to make sure you get the most from your experience.
Explore the rugged coastline, swim in sapphire blue lakes, or walk through ancient rainforests. Fraser Island whale-watching packages provide the perfect opportunity to see amazing humpback whales in their natural habitat.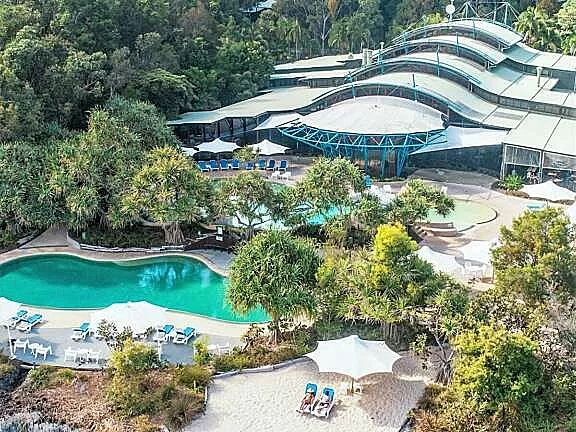 Fraser Island Resorts and Accommodation
Rest, relax and rejuvenate at the award-winning Kingfisher Bay Resort on Fraser Island. This hidden paradise is perfect for a relaxing island retreat, or a slice of comfort to return to after venturing out on one of the many Fraser Island day tours.
On the east coast of the island, find your way to Eurong Beach Resort. Offering a diverse range of accommodation options, this family-friendly resort is conveniently located just seconds from the beach.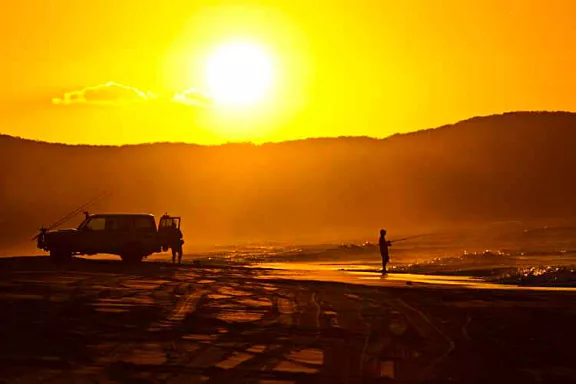 Fraser Island Camping
For lovers of adventure, set up in one of the many camping zones. There's no better way to appreciate the abundant splendour of Fraser Island than camping beneath the starry night sky.
As the night fades, watch the sun rise over the Coral Sea before diving into another day filled with more natural wonder.