Rottnest Island
Meet the happiest little animal on earth, the Quokka!
Affectionately known as Rotto by the locals, Rottnest Island is Perth's closest island paradise. Surrounded by sparkling turquoise waters, it is home to the happiest little animal on earth – the quokka. The only native mammal on Rottnest Island, quokkas cannot be found anywhere else on earth, making it truly unique.
Rottnest Island - home of the quokka
This amazingly diverse location packs a lot into its small size. As soon as you set foot on the jetty, you'll begin to relax. Just 11 km in length and 4.5 km in width, the island is jam-packed with exciting leisure options for adventure seekers!

Australian Traveller magazine Top 100 - #14 Rottnest Island, where you can meet the friendliest local – the quokka
Brilliant Breaks on Rottnest Island
Best things to see and do on Rottnest Island
Off the shores of Rottnest Island, snorkelling is a hugely popular activity. Popular snorkelling spots include The Basin, Parakeet Bay, Parker Point, Little Salmon Bay and Little Armstrong Bay.

From September to November, come see the whales off Rottnest Island. There's no better way to experience the majesty of these beautiful animals as they glide through the blue waters than on a whale-watching cruise.

For history enthusiasts, a guided tour of the Rottnest Island tunnel system and Oliver Hill Gun Fortification is an absolute must. This military infrastructure played a crucial role in Australia's defence during World War II.

Are you a thrillseeker looking for a truly breathtaking and unforgettable experience? Take to the air for an adrenaline-fuelled Rottnest Island skydive adventure.

Delight in the flavours of fabulously fresh, locally caught seafood for a real taste of the ocean. The Western Rock Lobster is a local favourite and a particular treat.

Take a ride to the Rottnest Island lighthouse. Originally built in 1849, a replacement tower was constructed on the same site in 1896 to become Australia's first rotating-beam lighthouse.

Ever wanted to walk on water? Of all the Rottnest Island tours, exploring the shoreline upon a sea-bike has to be the most unique. There are plenty of opportunities for photos and to learn about the island's history and marine life.

If you have a need for speed, book a seat on the Eco Express for a 45-minute thrill ride. This high octane boat adventure takes you around the coastline and leaves your heart thumping.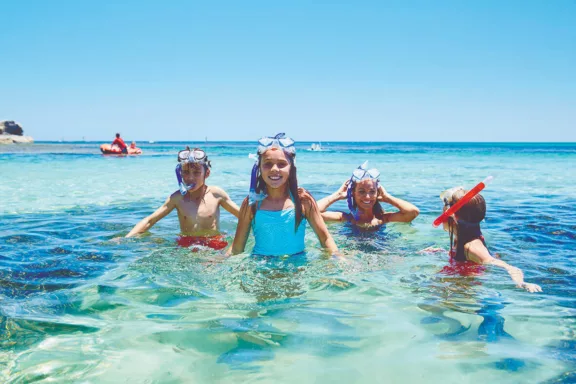 Stunning Natural Beauty
Rottnest Island has 63 beaches and 20 bays to choose from. You are spoilt for choice when it comes to swimming, surfing, snorkelling or diving amongst amazing marine life and limestone reefs. With many sheltered bays, Rotto is ideal for young families to safely dive in and explore this underwater playground.
The Wadjemup Lighthouse and Oliver Hill Battery on Rottnest Island will appeal to history lovers. For stunning natural beauty, add Henrietta Rocks, Cape Vlamingh and the majestic Cathedral Rocks to your sightseeing plans.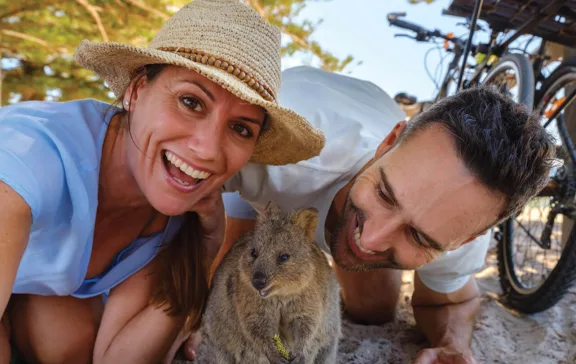 Wildlife and Nature
However, while there are many reasons to make the half-hour voyage from Perth to Rottnest Island, it's the quokka who is the star attraction. A quokka selfie is a highly sought-after experience!
Wetlands are home to many of Rottnest Island's animals. A large variety of birds and frogs inhabit the salt lake ecosystem. If you get tired of sparkling blue oceans, detour to see Rottnest Island's pink lakes.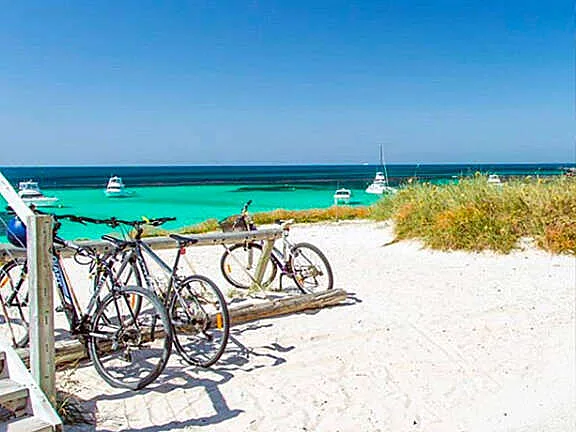 Getting Around
When on Rottnest Island, bike hire is the easiest way to explore the sights. To ride around the entire island (22kms) you would need between 3-5 hours, alternatively there are shorter routes available. If cycling isn't your thing, catch one of the regular hop-on, hop-off buses. Rottnest Island segway hire provides another fun option to zip about in style and explore the breathtaking scenery and hidden island treasures.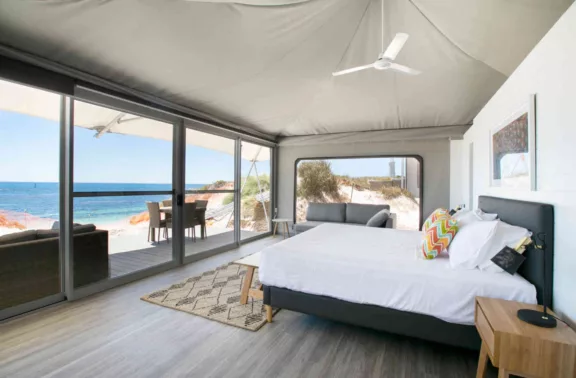 Rottnest Camping and Glamping
Outdoor enthusiasts will enjoy the opportunity to set up a tent at one of the Rottnest Island camping sites. There's a great selection of options from basic unpowered sites, to the more glamorous Rottnest Island glamping deluxe tents, complete with kitchenettes, ensuites and king-sized beds. Enjoy the island's simple pleasures - quality time with family and friends, sunshine, swimming and serenity in a natural environment.