North Stradbroke Island
Soak up the island vibe, where summer never ends
Off the south-east of Brisbane, lies a little island gem in the ocean - Stradbroke Island. On Straddie (as the locals call it) you can do as much, or as little, as you like. There's bushwalking, kayaking, surfing, sand-boarding, fishing, even whale watching. Or just enjoy the chilled vibe and relax and unwind.
North Stradbroke Island - endless beaches and summer fun
Dive into sparkling surf fringed by lush greenery - the hallmarks of North Stradbroke Island. Discover amazing places to visit, dine and stay. You're never far from stunning views or incredible beaches, and it's not just humans who love the waters around the world's second-largest sand island.

Brilliant Breaks on North Stradbroke Island
Vehicle ferry. Need a short break from the daily grind? Pack up your car or 4WD, your family or friends and head over to North Stradbroke Island for the perfect day-trip. Enjoy a day of bushwalking, kayaking, surfing, sand-boarding, fishing or whale watching. Or just soak up the relaxed island vibe with a lazy day on one of the spectacular beaches.
From $56.50 (Adult Passenger and Standard Vehicle) one way.
Passenger ferry. Just a short 25 minute ferry ride from Cleveland in Brisbane, and you can be on the island paradise of North Stradbroke Island. You can leave the car behind, as most ferry services connect with the local island bus, stopping off at all the major beaches, resorts and island icons - like Cylinder Beach, acknowledged as one of Queensland's very best!
$9 per adult (one way).
Best things to see and do on Stradbroke Island
Walk the world-famous North Gorge Headlands Walk at Point Lookout. Famous for its amazing views, it's a great opportunity to spot kangaroos, dolphins, turtles, manta rays and much more.

Immerse yourself in the Island's rich history by paying a visit to North Stradbroke Island Museum on Minjerribah. You'll learn all about the island's diverse history — from the indigenous Quandamooka people, through to European settlement.

Snorkeling off North Stradbroke Island is a fantastic way to drink in the amazing sights of the coral reefs and sea life that call these waters home.

Be dazzled by amazing sunrises and sunsets. If you're staying overnight, make sure you're outdoors to watch mother nature put on an amazing show. No matter the season, twilight and dawn are sure to take your breath away — and the starlit night sky is a truly magical experience.

From August to October, whale watching from North Stradbroke Island is a wonderful sight. To make it truly magical, jump aboard a cruise to see these majestic beasts up close.

The Point Lookout markets are popular with tourists and locals alike. With an array of gifts, local arts and crafts on offer including clothing, jewellery, natural beauty products, as well as homemade organic jams, honey and baked goods, you won't leave empty-handed.

Looking for a million star hotel? Go camping on North Stradbroke Island! Straddie offers several camping grounds to choose from, whether you're a first-timer or the more adventurous off-road type.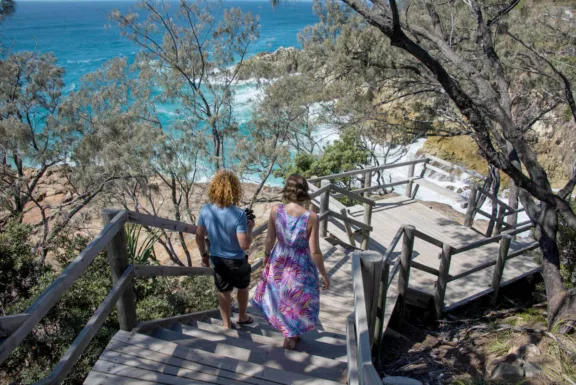 North Gorge Walk
Walk the world-famous North Gorge Headland Walk at Point Lookout. It's famous for its spectacular views from the boardwalk as it loops around the headland. Dolphins, turtles and manta rays can often be spotted and from June to November, hundreds of humpback whales pass the island and whale watching tours can be charted to witness this magnificent spectacle.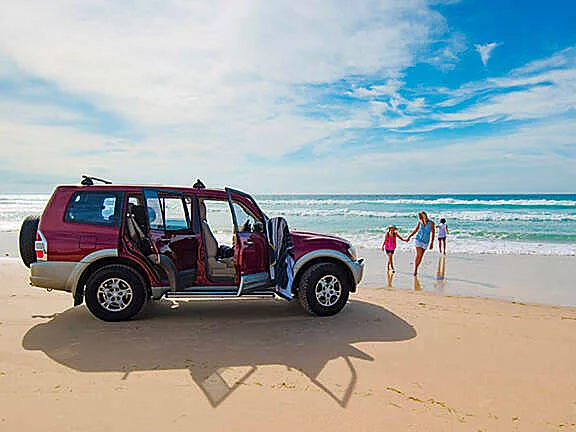 Self-Drive Options
Journey to this island paradise aboard the Straddie ferry. With the option to bring your car or 4WD, you'll have the freedom to explore national parks or make your way to any of the North Stradbroke Island camping grounds. Four wheel driving is allowed on Flinders Beach and Main Beach and the Island's three townships are linked by sealed roads making it easy to explore at your own pace.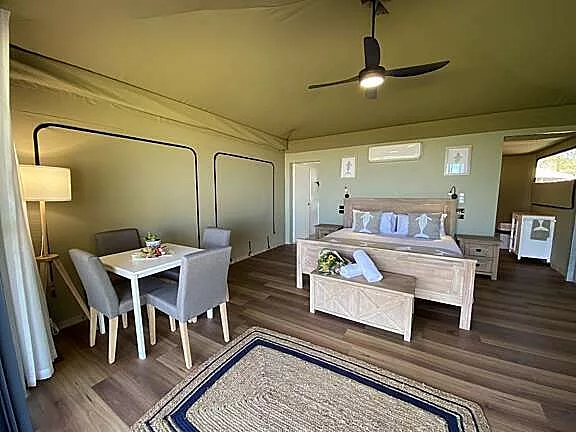 Island Glamping
Getting to Minjerribah Camping is easy with campgrounds a stone's throw from where the North Stradbroke Island Ferry lands. For a taste of North Stradbroke Island glamping, head to Amity Point or Adder Rock, not far from the Cylinder Beach camping grounds. Be dazzled by the amazing sunrises and sunsets that are sure to take your breath away.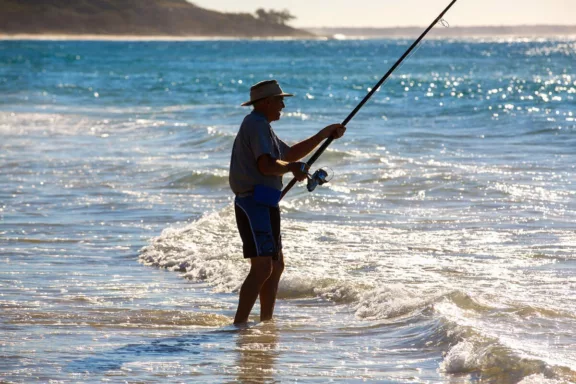 Nth Stradbroke Island Activities
If you're a beach lover, there are abundant options for board riders and bodysurfers who enjoy the bigger swells. Cylinder Beach, recognised as one of Queensland's best, is a particular favourite. Off the coast of North Stradbroke Island, fishing, whale watching, snorkeling and scuba diving are always popular choices.
Keep an eye out for local wildlife on a nature walk, learn about the traditions of the local Quandamooka people, or explore the 4WD tracks and beach drives.