Whitsundays: the ultimate guide to this tropical paradise
Sail through the shimmering turquoise waters on the Great Barrier Reef, discover secret snorkelling spots, and dig into the best seafood experiences – here's everything you need to do while on your trip to the Whitsundays.
Whether you're after a tropical adventure or a relaxed island holiday, the Whitsundays has so much to offer. Exploring the Whitsundays in the heart of the Great Barrier Reef in Queensland is on most people's bucket lists. With 74 tropical islands and fringing coral reefs to cruise around, spending time to explore the many things to see and do on a Whitsundays holiday will leave you with memories that last forever.

Best things to see and do in the Whitsundays
The Whitsundays region is a tropical paradise that every beach-lover should visit at least once in their lifetime!

Best Beaches in the Whitsundays
The world-famous Whitehaven beach is rated amongst the most beautiful beaches in the world, so it's an absolute must-see when you holiday in the Whitsundays. Known for its pure white silica sand, which comes from eroding quartz, you'll love strolling barefoot along the water line feeling the softness beneath your toes.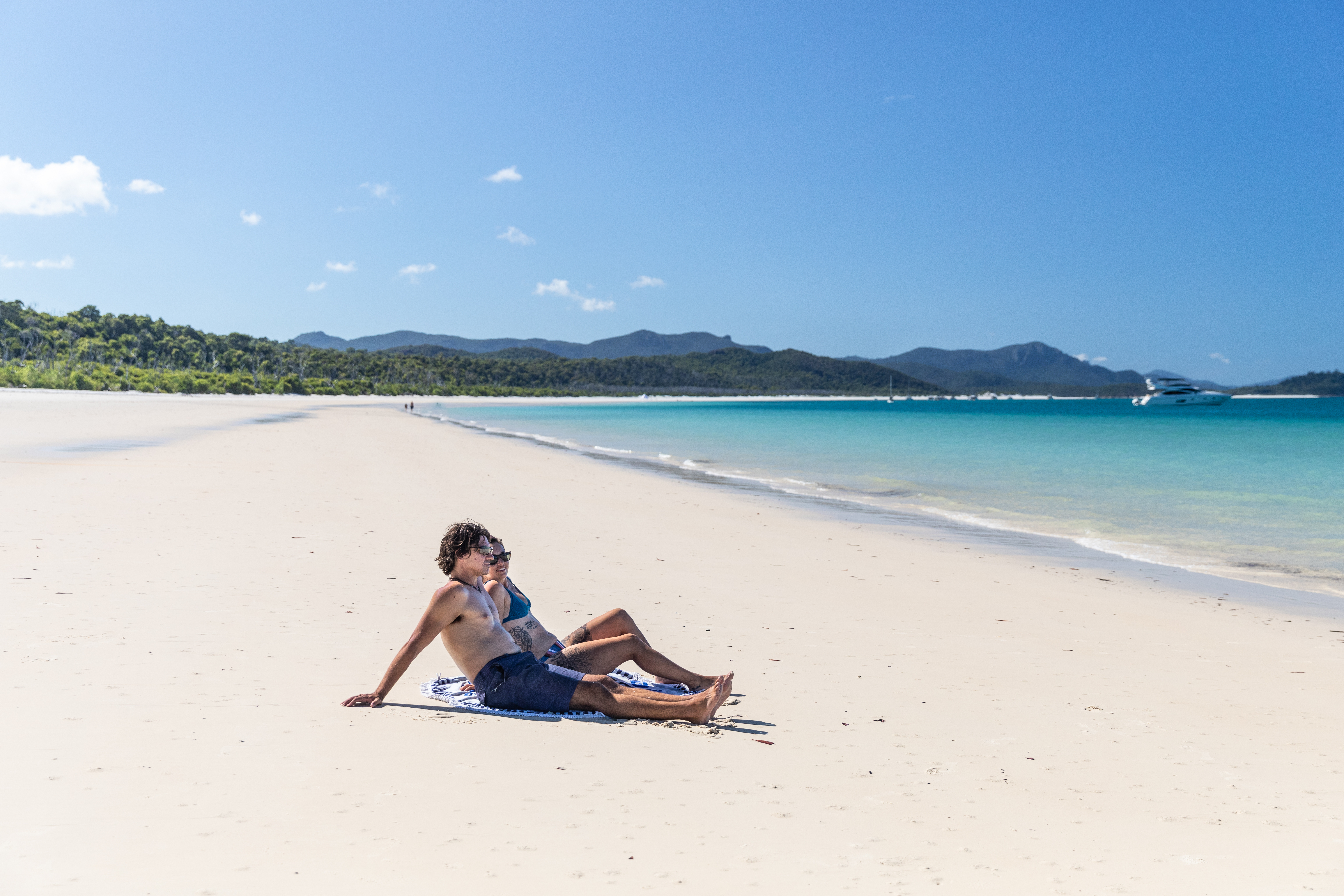 Hydeaway Bay is a quiet and secluded spot in the north end of the Whitsundays. If you're looking for a beach escape away from the more crowded tourist areas, add this one to your list.
Another favourite is Chalkies, just across from Whitehaven beach. It also has the same stunning white silica sands as Whitehaven and it has beautiful coral sea gardens you can explore.
Airlie Beach and Cannonvale, which are nearby, are the best-known mainland beaches. You can't go past popular Hayman Island, Hamilton Island and Daydream Island which are on most itineraries when planning some beach time in the Whitsundays.
Take a SeaLink cruise

The SeaLink Whitehaven Beach Big Island Day Tour takes you on a scenic cruise through the spectacularly beautiful Whitsunday Islands stopping off at the famous Whitehaven Beach. This one-of-a-kind tour to Whitehaven Beach will take you to places that no other Whitsunday Islands tour does. Cruising in air-conditioned comfort on a catamaran complete with modern facilities including a rooftop deck to ensure that you have a brilliant experience.
You'll travel aboard an air-conditioned catamaran with modern amenities and have complete 360-degree views!

Whitehaven Beach Big Island Tour

The SeaLink Big Island Day Tour takes you on a scenic cruise through the spectacularly beautiful Whitsunday Islands stopping off at the famous Whitehaven Beach. This one-of-a-kind tour to Whitehaven Beach will take you to places that no other Whitsunday Islan…
Sailing and cruising the Whitsunday Islands
There are many options from a lunch cruise to a day tour to Whitehaven beach, do a spot of whale watching or want to enjoy a romantic sunset cruise. Whilst some cruises do not include shore-based visits or activities, there are many that provide access to some of the most iconic Whitsunday locations like Hill Inlet lookout.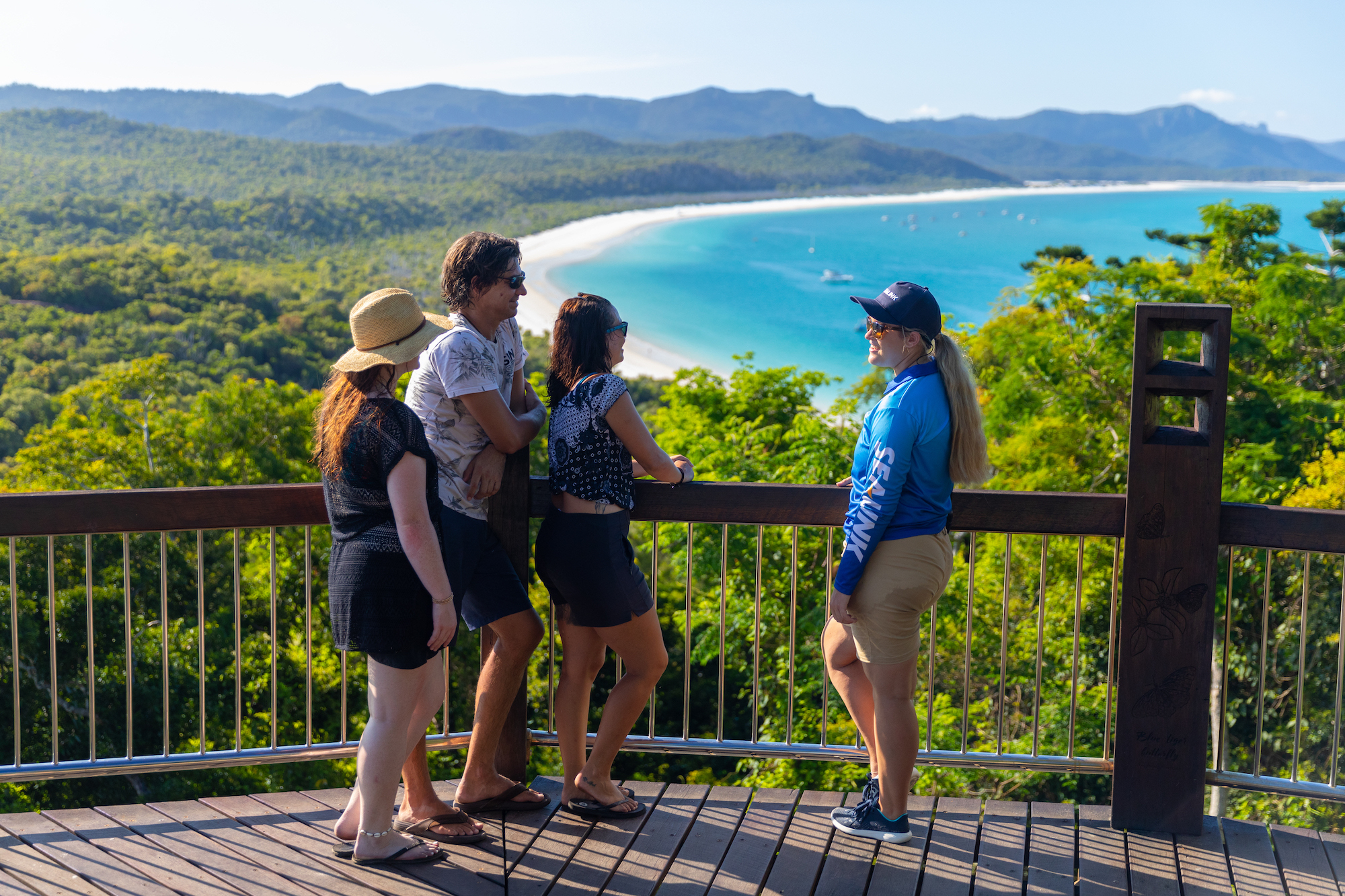 Best snorkelling spots in the Whitsundays
If you love snorkelling, plunging into the sparkling turquoise waters in the Whitsundays will take your breath away. The region is teeming with marine life and brilliantly coloured coral. When it comes to fantastic snorkelling spots, you're spoilt for choice. There are safe shallow waters around Hayman Island if you prefer to walk in from the beach.
However, the best snorkelling spots are accessed via a boat so book a half-day or full-day experience to visit iconic locations like Bait Reef Marine Park off Hook Island, or Hardy Reef in the world heritage-listed Outer Great Barrier Reef.
Depending on the season and wind direction, daily tides and weather conditions, the top snorkelling spots may differ. However, do check out Langford Island Reef, Mantaray Bay in Hook Island, Blue Pearl Bay, Hayman Island and Chalkies Beach, which is close to Whitehaven Beach.
Indigenous cultural tour
One of the best ways to understand the culture is by going on an indigenous tour. Learn about the Ngaro people by visiting the cultural site, which is found within the Nara Inlet on Hook Island. See ancient rock paintings, experience throwing a traditional fishing spear, and learn about the native wildlife and plants that were sourced for the aboriginal people as bush-tucker.
Hiking in the Whitsundays
Explore the Whitsunday Island National Park to discover off-the-beaten-track hikes and walks. Some popular ones include Whitsunday Cairn, Whitsunday Peak, Honeyeater Lookout in Airlie Beach and Bauer Bay on South Molle Island.
Enjoy water sports on Whitsundays
There are loads of options for water sports in the Whitsundays that will get your heart pumping. You can hire a jet ski for that ultimate adrenaline rush. When there are no speed limits, it's up to you whether you go for a slow cruise or a more exhilarating experience zipping around the stunning coastline and exploring different beaches and coves.
For something, a little slower paced you can hire a kayak or stand-up paddleboard and venture out into the sparkling turquoise waters. It's a perfect way for the family to spend a few hours exploring. The waters around Airlie Beach and Hamilton Island are particularly popular spots and you can often spot turtles and manta rays while paddling around.
If you want to do something more active there are endless adventures in Airlie Beach whether you're into boating, fishing, snorkelling, kayaking, or paddle-boarding.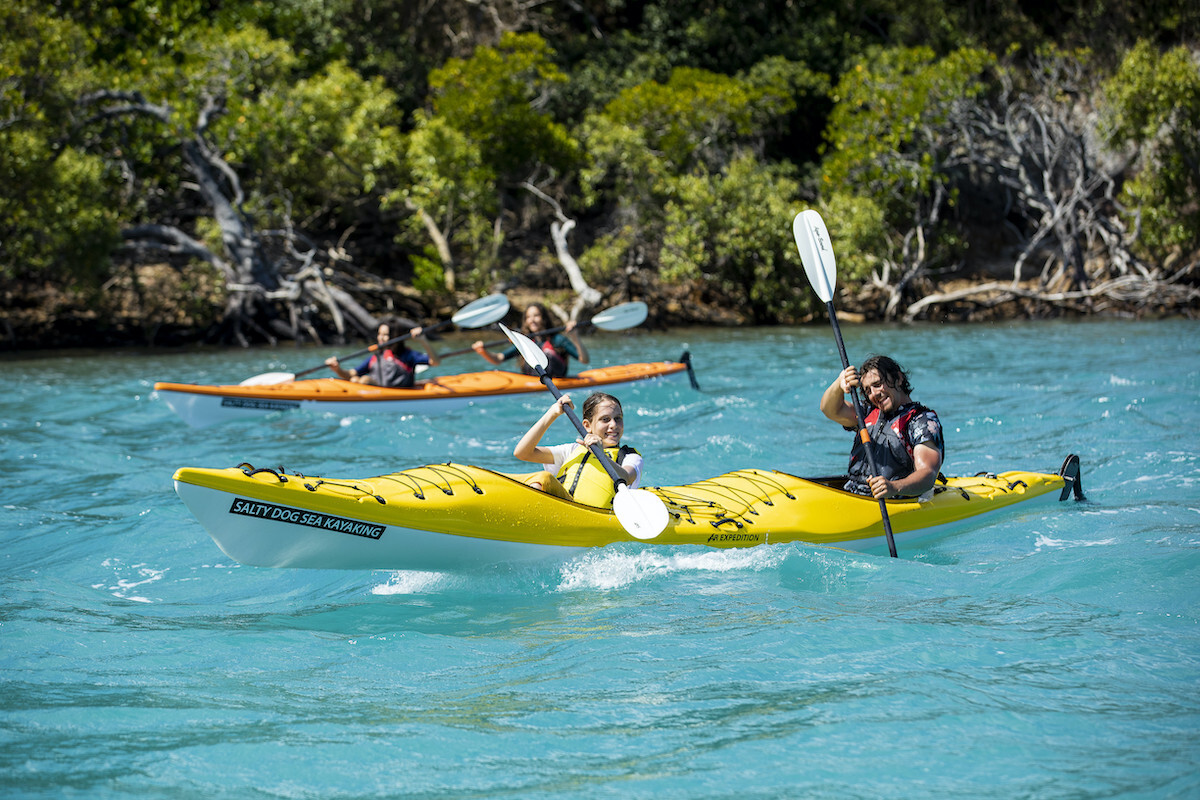 Airlie Beach accommodation and dining
Considered the gateway to the Whitsundays, Airlie Beach is a popular landing point to start off a holiday in this gorgeous tropical region of islands in the Great Barrier Reef. There is holiday accommodation to suit all budgets, whether you're after a luxury couples escape or a fun-filled family adventure.
There are many dining and bar options around Airlie Beach and the Whitsundays Seafood Bar on the main street of Airlie Beach is very popular with tourists and locals for picking up a takeaway and having a beach picnic. The Port of Airlie is also well known for its numerous restaurants and stunning views of the Whitsunday Islands, it's a must see at sunset.
Day trips from Shute Harbour
Shute Harbour is a convenient starting point for a day trip, overnight cruise or even private charter. A cruise is the best way to get to the best snorkelling locations where you can see spectacular marine life and rainbow-coloured corals. Closer to Airlie Beach town are several beaches to explore including Cannonvale, Shingley, Airlie Beach and Boathaven.
Where to stay in the Whitsundays
There are many great accommodation options in the Whitsundays, with resorts aplenty to help you enjoy the wonderful weather and luxury that the Whitsundays afford. If you want to treat yourself then there is either the Mirage Whitsundays, which has rooms from self-contained apartments to the penthouse or the Elysian Retreat, the first-solar-powered resort on the Great Barrier Reef.
Best places to eat on Whitsundays
There's plenty to savour on Whitsundays after a busy day of exploring. For seafood lovers, Fish D'Vine is the perfect spot to dig into chowders, curries and crispy, whole-cooked fish. At Manta Ray on Hamilton Island, you'll find a mix of Asian and modern Australian flavours to choose from. You can't miss Bob's Bakery for gourmet pies, pastries and Vegemite scroll.
Current Special Discounts and Deals
Start planning your next brilliant holiday to the Whitsundays, by checking out the special discounts and deals with SeaLink North Queensland.

Explore the wonders of the Whitsundays
If you're a beach lover, avid snorkeller or sailer, or just enjoy kicking back and relaxing in a tropical paradise, you'll love every second of your time in the Whitsundays!