Brilliant things to see and do in Sydney
From buzzing beaches to rich heritage, from the best of gourmet experiences to one of the world's most beautiful harbours – Sydney has got it all.
Visitors from across Australia and around the world are always struck by Sydney's beauty. A visit to Sydney isn't complete without a trip around the spectacular harbour with a cruise past the iconic Opera House and under the Harbour Bridge. A photo opportunity is waiting around every corner, making Sydney a photographer's delight.
Visit the world's most spectacular harbour

Sydney is a vibrant, multi-cultural city, with an enviable lifestyle centred around its spectacular harbour. The Sydney Opera House and Sydney Harbour Bridge are Australian icons and twin jewels against the backdrop of this bustling metropolis. You can enjoy the stunning views and conquer the icon with a Sydney Harbour Bridge climb. Whether you're a tourist or a first-time traveller, Sydney Opera House has something for everyone. Pick a tour or watch a live performance, Sydney Opera House's magnificent beauty never fails to mesmerise.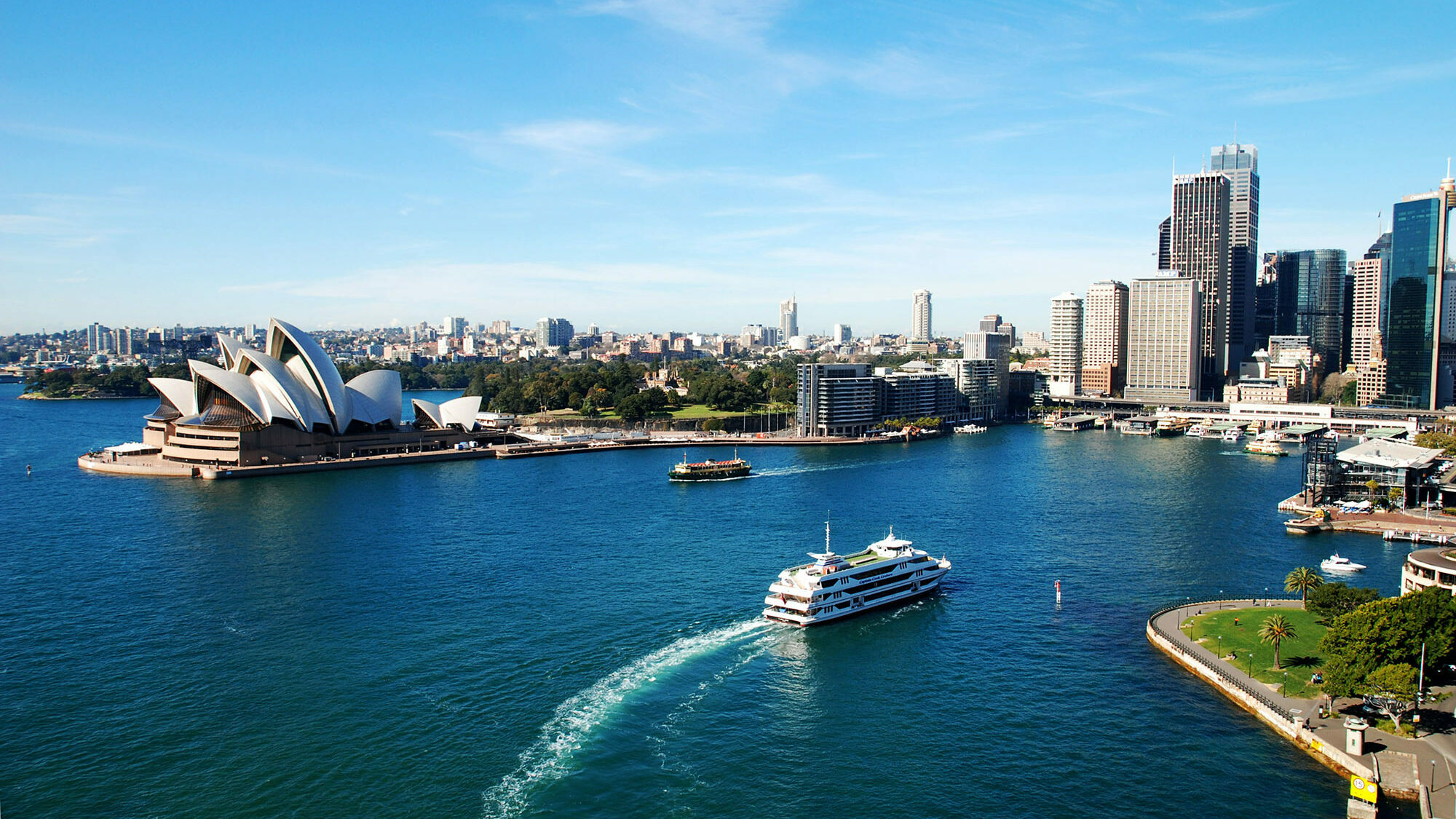 Hop-on Hop-off ferry pass
Discover Sydney Harbour's sites at your own pace by picking up a hop-on hop-off ferry pass. It's a fun and flexible way to get around the harbour by water and experience popular destinations including Taronga Zoo, Manly, Watsons Bay, and the Sydney Opera House.

Hop on Hop off Explorer

When in Sydney travel like the locals do, on the harbour highway with the official Sydney Harbour Explorer. Up to 6 destinations, one easy to follow ferry timetable, expert local assistance and the flexibility to hop-on and hop-off as you like.
Iconic Sydney Harbour Events
Get ready to party like a local at one of the many harbour celebrations. From Australia Day in late January right through to our world-famous New Year's Eve celebrations, there's a packed program of events — tall ship races, fireworks, sailing regattas, Vivid light festival, concerts and more for you to enjoy.
Luxury cruising on The Jackson
Named after the shimmering waters of Sydney Harbour (Port Jackson), The Jackson embodies the beauty and elegance that exemplifies Sydney's magnificent Harbour. Complete with designer décor and furnishings The Jackson is licensed to host up to 700 guests, and sets a new benchmark for on-water venues in Sydney.
An elegant canvas for your next event, this vessel will immerse you in the beauty of the world's most magnificent harbour with spectacular views from all three levels of sophisticated spaces and expansive decks.
Sydney whale-watching cruises

Witness majestic whales at play on a Sydney Harbour whale-watching cruise. You'll get up close and personal during whale watching season (June to October) and learn more about these gentle sea creatures.

Captain Cook Cruises Dining Experiences
For over 50 years, Captain Cook Cruises has been at the forefront of quality on-water dining experiences on Sydney Harbour. Our award-winning range of dinner cruises, high teas and lunch cruises on Sydney Harbour are all prepared freshly onboard by our international chefs. 
Looking to explore some of the best food and wine experiences Australia has to offer? Here are our top picks of epic culinary adventures. 
Harbour Bar and Restaurant
Your trip to Sydney would not be complete without a Harbour Bar and Restaurant dining cruise with the city lights as your table backdrop. Be served gourmet food paired with amazing Australian wines and decadent desserts from the chef on board, for a night to remember.
All menus feature the freshest Australian produce, sourced locally and prepared simply.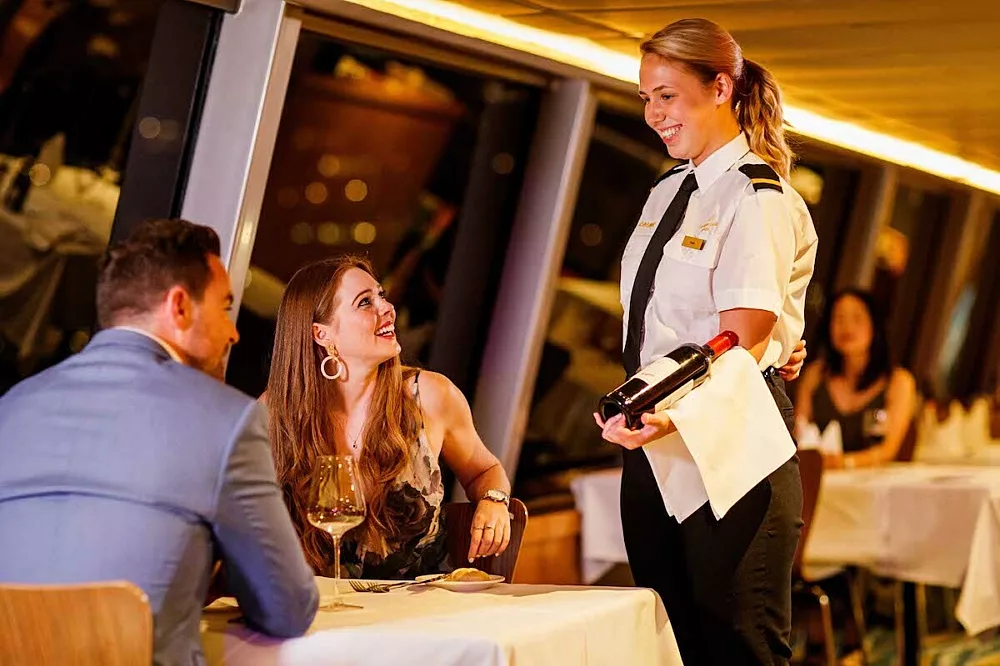 Harbour Bar and Restaurant

On a floating restaurant fit for it's vista, we've created a new waterfront dining experience in Sydney like no other. It's Sydney's new local go-to where the tapas-bar menu features the freshest Australian produce, sourced locally and prepared perfectly. Exp…
Take a Sightseeing Cruise
The easiest way to explore the harbour is aboard a sightseeing cruise. Dotted along the 240km of shoreline, you'll discover craggy cliffs, secluded beaches, hidden coves, significant historical sites and an abundance of natural bushland. The harbour and its unique blend of aboriginal, colonial and naval heritage is yours to explore.
Make sure you allow plenty of time to visit the many waterside attractions that wrap around the bustling foreshore. When you are ready to dine, the harbour city has you covered.

Sydney Sightseeing

Discover the most beautiful Harbour in the world in style with our range of premium sightseeing cruises. Sit back in comfort and pass the world-famous icons of the Opera House and Harbour Bridge, stunning blue bays, hidden beaches, island national parks, towe…
Harbour Spots for History Lovers
Popular attractions for history lovers include the harbour islands that house forts, lighthouses and naval vessels. Onboard tour guides provide a wealth of insight and knowledge to give you a full appreciation of each site you pass.
Family-Friendly Adventures
For family-friendly adventure, a Harbour Story Cruise takes you past iconic landmarks, palatial waterfront homes and local points of interest. Ample viewing space and expert commentary ensure there is something for everyone to enjoy.
Sydney events in 2023

Sydney is home to some of the most exciting global events in 2023. The year started with a bang with Sydney WorldPride from February 17-March 5. Vivid Sydney 2023 is adding some much-needed warmth and light to our winters. And as we head into summer, get ready for the best of creative minds coming together for SXSW Sydney in October. 
Current Special Discounts and Deals
Start planning your next brilliant holiday to Sydney, by checking out the special discounts and deals with Captain Cook Cruises Sydney.

Explore Sydney Harbour
The Sydney Opera House and Sydney Harbour Bridge, are Australian icons and twin jewels against the backdrop of this bustling metropolis. You'll love every minute of your time exploring this spectacular harbour.