Darwin - Tiwi Islands
A melting pot of people, culture and wildlife
Asian-influenced food, vibrant outdoor markets, numerous adventure activities and the largest number of crocodiles in the world await discovery for those planning a Northern Territory holiday. If you're seeking a destination with a distinct difference, be sure to visit Darwin and the Tiwi Islands at the top end of Australia.
Darwin & Tiwi Islands - the home of wild adventure
If you're seeking a destination with a difference, the Northern Territory capital of Darwin is one for your bucket list. Stunning gorges, waterfalls and billabongs are must-see Darwin attractions awaiting discovery in Litchfield National Park, Kakadu National Park and Katherine Gorge.

Australian Traveller magazine Top 100 - #27 Get to know Australia's island paradise in the Tiwi Islands
Brilliant Breaks in Darwin and Tiwi Islands
Best things to see and do
Hop on a short cruise around the beautiful Harbour to discover the city's WWII history. You'll also learn about the destructive force of Cyclone Tracy and life in modern-day Darwin.

Plan a day trip to Cox Peninsula with a Crab Claw Island cruise from Darwin. You'll have plenty of time to unwind on the two-hour cruise, followed by a beach-deck seafood buffet lunch, and time to relax before heading back to Cullen Bay.

Dine at one of the many popular restaurants or cafes in the Cullen Bay Marina. This is a favourite spot for holidaymakers and locals alike, with a variety of sensational cuisines including Greek, Italian, Asian, and amazing local seafood.

For shopping, fresh tropical fruits and vegetables, exotic food stalls and entertainment explore Darwin's markets. There's plenty of choice between Rapid Creek Markets, Nightcliff Markets, or Mindil Beach Sunset Market where the fun starts as the sun goes down.

Tiwi football is legendary in AFL circles; the Tiwi Islands has produced three Norm Smith Medallists — the highest accolade in the AFL. Catch a game, or visit in March for the famous Tiwi Islands Grand Final.

Embrace the authentic flavour of the Tiwi Islands on a Tiwi By Design Tour. Accompanied by a local guide, you'll learn about island life, visit the Patakijiyali Museum and tour the historic mission precinct.

Tiwi Islands tours give you the chance to visit Wurrumiyanga, boasting three art centres, the culture museum, the old Catholic mission precinct, as well as Pukamani (burial) poles in the cemetery.

Experience the unique and spiritual Welcome Smoking Ceremony - an insight into the ancient culture of the Tiwi people.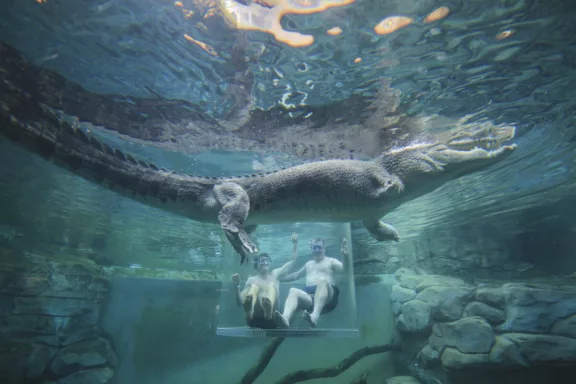 Crocosaurus Cove Crocodiles
Interactive wildlife centres dedicated to fearsome crocodiles are another popular Darwin tourist attraction, providing a chance to see these prehistoric creatures up close. When planning your Darwin family holiday, be sure to include a visit to Crocosaurus Cove for a chance to feed - or even swim - with the crocs!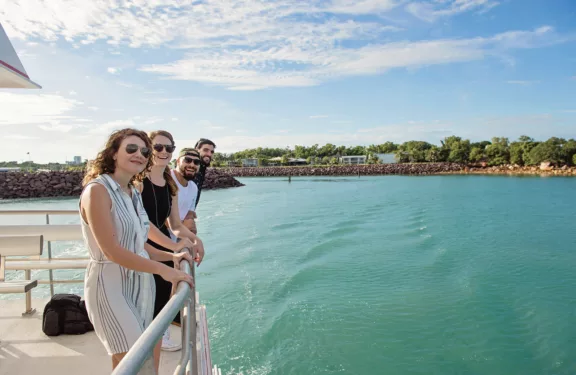 Darwin Cruises
Gain a deeper understanding of Darwin's history aboard a harbour cruise. Commentary from your knowledgeable skipper covers the bombing of Darwin during WWII and destruction wrought by Cyclone Tracy.
From May to September, Darwin cruises to Crab Claw Island are a perfect way to relax and unwind like the locals do. Feast on locally caught seafood, Black Angus porterhouse steak, fresh salads and dessert; all while taking in the stunning views.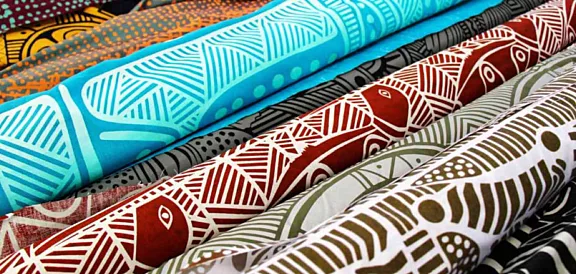 Explore the Tiwi Islands
Head across the Beagle Gulf and visit Tiwi Islands, where you'll be immersed in the Tiwi Islands Aboriginal culture. Known as 'the island of smiles', the happy Tiwi Islands people are internationally renowned for their individual style of art.
Tiwi Islands Aboriginal art is prized by collectors and has been exhibited around the world. Their history and traditional stories are vividly expressed through paintings, sculptures, ceramics, screen-printed fabrics, etchings, prints and jewellery.
It's a rich heritage they'll love to share with you. For a remarkably unique reminder of your Northern Territory holiday, purchase a distinctive piece of Aboriginal art to take home with you.