Here's why kids fall in love with Rottnest Island
Rottnest Island is one of the most family-friendly island destinations in Australia. We've put together the ultimate travel guide to Rottnest Island.
Located just a 30-minute ferry ride from Fremantle or 90 minutes from Perth, Rottnest Island is a true-blue paradise, quite literally. With shimmering crystal-clear waters speckled with ink-blue spots – the mosaic-like design can be quite mesmerising to the eyes. 
Whether you're looking for abundant sunshine, unique wildlife (hey quokka, we're looking at you) or unlimited adventure, Rottnest Island has something for everyone. Heading to Rottnest Island with kids is always a great idea.
So, here are the top recommendations for activities to enjoy with your family on Rottnest Island
1. Explore the island on a bike or Segway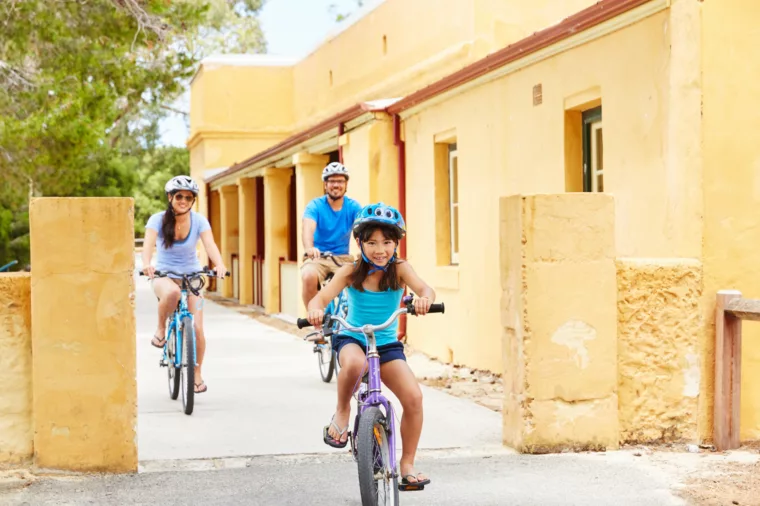 Since cars are not allowed on Rottnest Island, the only way to get around the island is on a bike, a segway or on foot. Hire a bike and pedal through the picturesque coastal bike paths. And since there are very few vehicles, it's a safe activity for your children.
Best cycle paths on Rottnest Island:
The Rotto Mini Loop is a four-kilometre round trip that takes you through The Basin, past Longreach, and Geordie Bay. Make a quick pitstop at the famous Geordie Café and grab one of their fresh muffins or a cup of coffee to fuel up. Kids will enjoy their iced chocolates with ice cream, also available for takeaway.
The Beaches, Lighthouses and Lakes trail is a 10-km bike path that takes you through unique island landscapes, including the Wadjemup Lighthouse. Pack a picnic and make a pitstop along the way.
Not in the mood for a workout? Joining a segway tour is another popular way to explore the island.
2. Snorkelling and swimming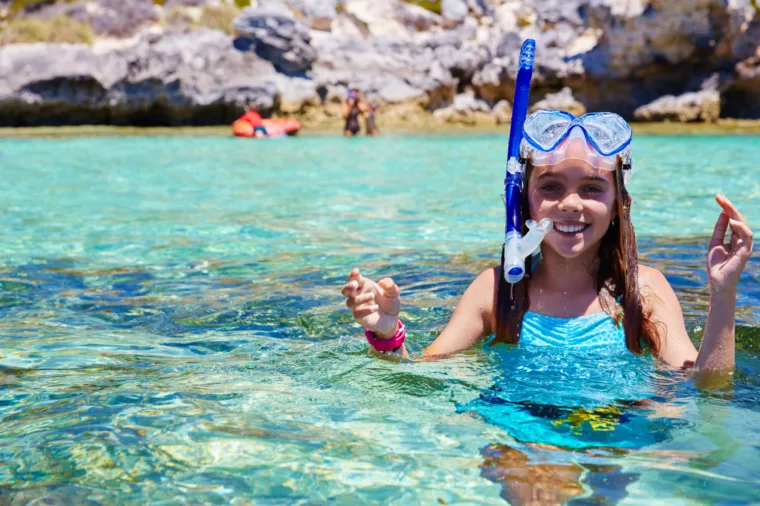 Rottnest Island has many sheltered and protected bays where you can see over 400 different species of fish, green turtles and colourful western rock lobsters. Pick from popular snorkelling spots such as The Basin, Parakeet Bay, Little Salmon Bay or the shipwreck at Henrietta Rocks or discover a few of your own. From colourful coral reefs to schools of tropical fish, there's something for everyone to discover beneath the surface. You can either bring your own gear or hire it on the island. To make it an immersive experience, you can opt for snorkelling tours that are ideal for older kids. They will love discovering unique marine life or just splashing around in the water.
3. Snap a selfie with a quokka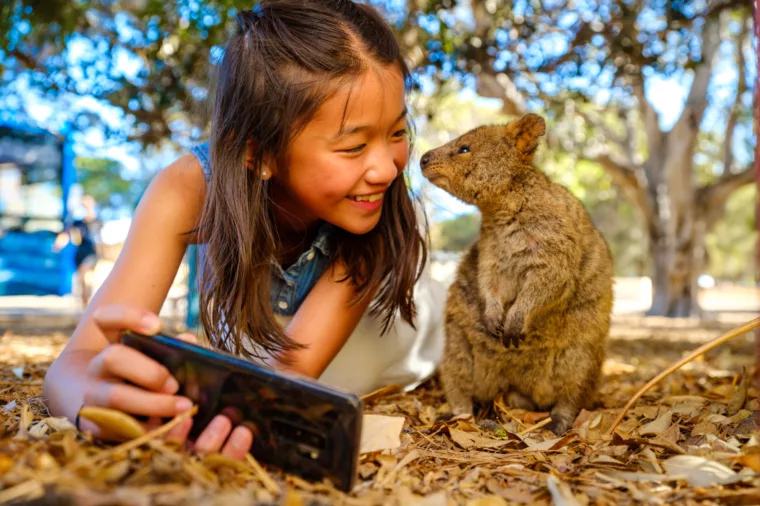 Known as the happiest animal on earth, you'll find quokkas only on Rottnest Island. In fact, the island gets its name from these friendly mammals – 'Rottnest' can be loosely translated as 'Rat's Nest Island'. These little marsupials are quite adorable and friendly, and might we add – absolutely photogenic. So bring your camera and don't forget to snap a selfie with a quokka. Make sure to not touch them or feed them though.

Locations where you are likely to spot quokkas
Garden Lake – Located a few minutes from the main bus stop
Walk towards The Basin – You can spot them in the woodland habitat along the trail
Wadjemup Lighthouse – Just before the ascent at the base of the hill
4. Visit the Wadjemup Museum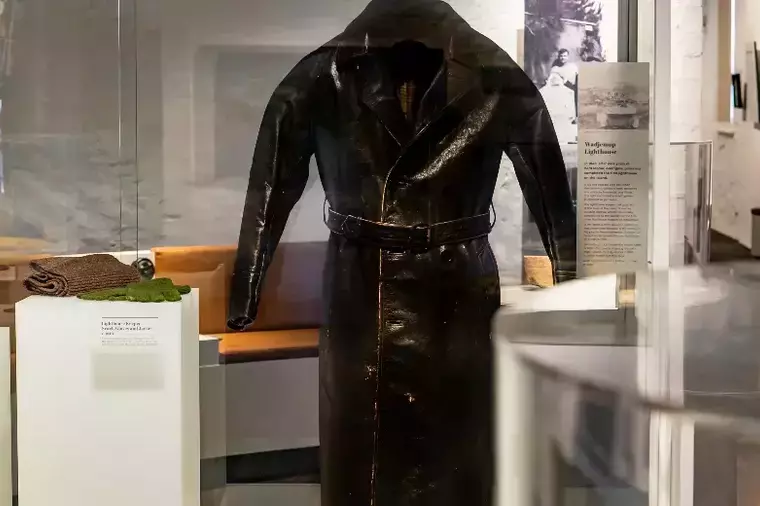 Let your children enjoy a lesson in history at the Wadjemup Museum. We're sure they will come back with heaps of interesting facts about the island. Visitors can explore 40,000-year-old artefacts, sculptures and artworks. The museum is located in the old Mill and Hay store behind Rottnest Bakery. While you're at the bakery, make sure you try the iconic vanilla slice, cream buns and jam doughnuts. Trust us, the sugar rush is worth it.
5. Best kid-friendly cafes on Rottnest Island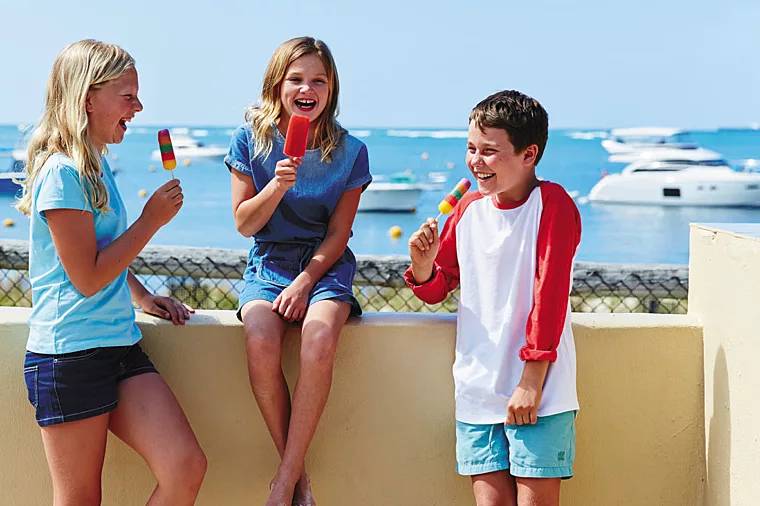 Located close to the visitor centre, this café is known for its top-notch coffee and healthy breakfast options such as chia pudding and smoothies.
Located in the settlement with inside and outside seating, Frankie's on Rotto has great pizzas, milkshakes and a dedicated kids' menu. It is also a popular place to spot sleeping quokkas. 
This is almost an institution on Rottnest Island serving coffee, smoothies and light refreshments. You will also get to see lots of quokkas at the café who come by for a play at the large outdoor area.
6. Best playgrounds for kids on Rottnest Island
Main Waterfront, Thompson Bay
This is one of the biggest playgrounds on the island and has shade sails. The playground also offers table tennis and you can get bats and balls from the bike hire shop.
This playground is quite handy if you want to catch your breath and have your coffee while the kids play. It's located close to Geordie's Art Gallery and Café.
This brand-new addition, directly adjacent to the main shops, is a fantastic play area to stop by before or after lunch. 
Helpful tips to remember while planning a family getaway to Rottnest Island
If you plan to bike around Rottnest Island, remember to book a bike trolley or get bike seats for young kids.
For parents with young babies, the bus tours that run all day might be a better way to get around the island.
It can get quite windy, so make sure to carry warm jackets that can be used to layer up.
Explore the island in a clockwise direction as the southern beaches are often best in the morning and the northern beaches are most sheltered from the afternoon sea breeze.
Rottnest Island is undoubtedly one of the best family-friendly destinations in Australia with many things to see and do across all ages.
How to get to Rottnest Island: Book the SeaLink Rottnest Island ferry from Fremantle or Perth. The ferry crossing takes 30 minutes from Fremantle and 90 minutes from Perth. 
Can't wait to plan your Rottnest Island escape? As a Brilliant Benefits member, you can now enjoy 10% off on your ferry booking. Just use the code BRILLIANT while booking your travel with SeaLink Rottnest Island. 

Sign up for Brilliant Benefits

Not yet a member of our free Brilliant Benefits club? Looking for another perfect holiday getaway? Sign up to Brilliant Benefits and enjoy great offers on your next holiday or browse through our curation of brilliant experiences all around Australia to help discover your "where to next?"


Brilliant Inspirations Travel Blogs
Join us as we take you on a trip across Australia's must-visit destinations and beyond. Want to experience unforgettable adventures, see incredible nature and wildlife, taste premium food and wine, and much more? It's time to dream big. Take a look through our blogs to find inspiration for your next epic journey.