Flinders Ranges
A rugged and ancient outback mountain range
The Flinders Ranges is in the heart of South Australia's outback. It's one of outstanding natural beauty, inspiring and ancient landscapes, significant aboriginal heritage, and pioneering settlers' history. This region offers a wealth of unique Australian wildlife, geology and ancient history for the avid explorer, camper or 4WD enthusiast.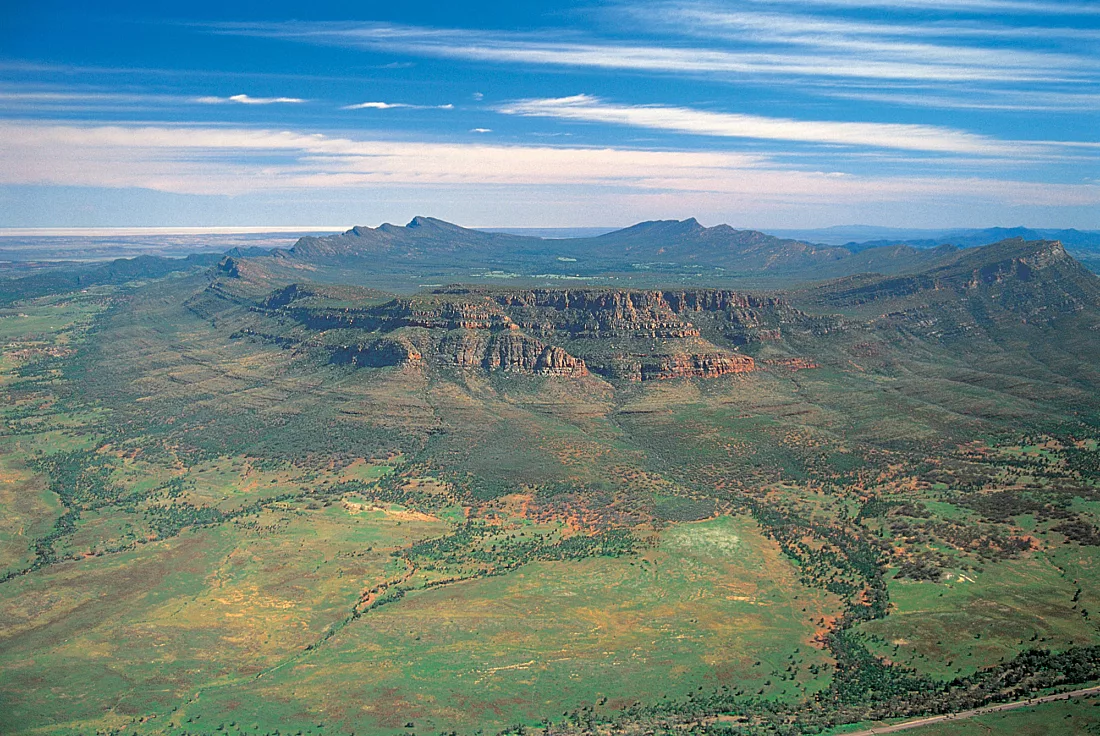 Be captivated by the outback
Surround yourself with the stunning beauty of the Flinders Ranges, the largest mountain range in South Australia. Stretching across 430 kilometres from Port Pirie to Lake Callabonna, the Flinders Ranges is a 5.5-hour drive north of Adelaide.
Rugged peaks and rocky gorges create some of the most dramatic landscapes Australia has to offer. The ever-changing colours of the landscape have mesmerised photographers and artists for years.

Australian Traveller magazine Top 100 - #35 Discover walks and trails in the Flinders Ranges
Brilliant Breaks in the Flinders Ranges
Luxury Island Series - Flinders Ranges, Kangaroo Island and Murray River Getaway. Be captivated by Australia's renowned rugged outback of the Flinders Ranges with its ancient landscapes and views as far as the eye can see. Add the diversity of fauna and flora on spectacular Kangaroo Island before ending with a magical Murray River cruise on the Southern Hemisphere's largest inland paddlewheeler - the PS Murray Princess, on this memorable 12 night / 13 day luxury break.
From $6059pp*.
3 Day Outback Tour. Treat yourself to true outback hospitality and Aussie station experience in complete luxury. Travel in an airconditioned Mercedes Benz to explore the spectacular scenery of Wilpena Pound and Flinders Ranges region. Visit Rawnsley Park Station, enjoy outback food and hospitality at the famous Prairie Hotel at Parachilna. Travel through the stunning Clare Valley wine region for some wine tasting and lunch before returning to Adelaide.
Standard from $2242 per person twin share.
5 Day Outback and Kangaroo Island. Experience the amazing rugged Australian outback of the Flinders Ranges and Kangaroo Island. Rawnsley Park Station is a highlight. Your hosts provide true outback hospitality and an authentic Aussie station experience. After a night in Adelaide, enjoy a two-day nature and wildlife tour on Kangaroo Island. Meet kangaroos, koalas and native birdlife in their natural habitats. Wander past wild Australian sea lions, and enjoy a private gourmet-style picnic lunch in a unique Australian bush setting.
Standard from $3427 per person twin share.
Brilliant Experiences
Expand your trip to the Flinders Ranges, South Australia. Add an additional few days to visit the breathtaking landscapes on Kangaroo Island (KI) - Australia's third-largest island. Recognised as one of the world's finest nature destinations, KI is internationally celebrated for its wildlife and pristine wilderness.
During your visit to South Australia, visit the Murray River, Australia's longest river. The Murray abounds in unique flora, fauna and old riverside ports. Take a nature walk to spot some of the 350 bird species that inhabit the Riverlands, or visit the historic township of Murray Bridge.
Best things to see and do
Stay at Rawnsley Park Station, located at the foot of Wilpena Pound. Rawnsley Park Station is a magnificent natural amphitheatre and the centrepiece of Ikara-Flinders Ranges National Park.

When holidaying in the Flinders, camping is a great way to experience the unique qualities of the region. The numerous Flinders Ranges camping grounds cater to all budgets, offering luxury glamping to the simplicity of an unpowered site.

Enjoy outback food and hospitality at the famous Prairie Hotel at Parachilna.

Get a bird's eye view of this expansive region by taking a 30-minute scenic flight with Chinta Air. There's no better way to gain an appreciation of the scale and beauty of Wilpena Pound and the Heysen Range.

Treat your tastebuds to a delicious 2-course dinner in the Woolshed Restaurant. This authentic Australian converted woolshed serves delicious Modern Australian cuisine.

See the best of this region on foot. There are Flinders Ranges walks for all comfort levels. Popular Flinders Ranges hikes include Alligator Gorge, Dutchman's Stern, Rawnsley Bluff and Tanderra Saddle walks.

Discover the very best Flinders Ranges attractions on a Flinders Ranges tour. Knowledgable tour guides will give you deeper insight and appreciation into the ancient history that surrounds these mountains. See the Flinders on foot, by air, 4WD, minibus or even from the back of a camel!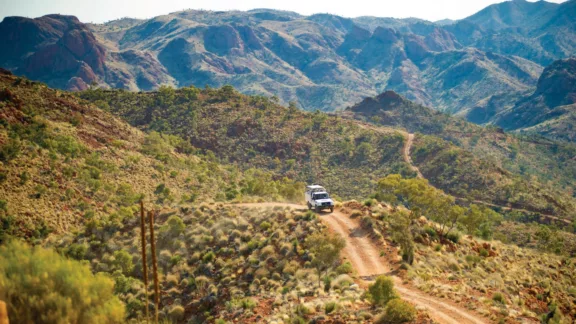 History and Culture
Delve into the history, culture and beauty of this truly magical and spiritual region. More than 800 million years old, this unique environment has been the traditional home to several Aboriginal groups, known as the Adnyamathanha people.
A great way to see the best of the Flinders Ranges is in complete luxury on an Odysseys' personalised outback tour.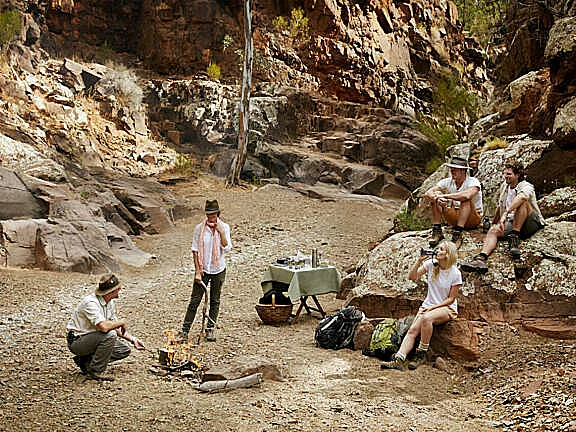 Outback Camping
Far from the influence of bright city lights, camping beneath the stars reveals a truly spectacular night sky. The Wilpena Pound camping ground in the Ikara-Flinders Ranges National Park provides camping experiences for all budgets. Set up camp and stretch out in a secluded, unpowered site with your own equipment. Better still, treat yourself to a Flinders Ranges glamping package to have the set up done for you.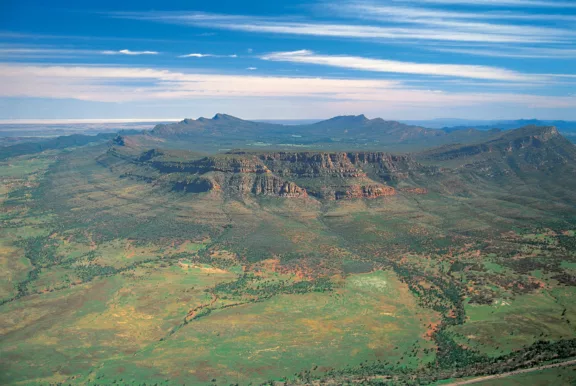 Wilpena Pound Walks
Love hiking? Whether you're an experienced hiker or just want to stroll through this amazing landscape, there is a walk for you.
The leisurely 2.5km guided tour along Wilpena Creek to the Old Hills Homestead is a great walk for beginners. For something more challenging, try the Rawnsley Bluff walk and be rewarded with panoramic views of Wilpena Pound. Or perhaps the 19km circuit to St Mary Peak.